The TotalCourage™ Institute Playbook
World Class Character Training for Your Team
What's better than that incredible win?  Knowing that you didn't sacrifice your character to get there.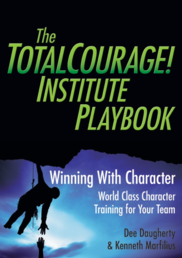 In this essential and easy-to-read workbook, you will learn why it's so important to develop character on the path to the finish line – and how to do it.
In a world surrounded by negative influences, this manual will teach you how to overcome peer pressure and bad examples to lead a life built on honor and accountability. Written by Colonel Dee Daugherty, US Army (Retired) the TotalCourage! method has never been easier.
Whether you're competing on the field or battlefield, in the classroom or the boardroom, your goal should be to surpass every challenge with integrity. In doing so, you will lead a more meaningful – and ultimately more prosperous – life.

KENNETH MARFILIUS
Ken is a proven leader in the academic, athletic and military arenas. Ken completed his undergraduate studies at Syracuse University and earned a doctorate in clinical social work (D.S.W.) and master of social work (M.S.W.) from the University of Pennsylvania School of Social Policy and Practice. He received a direct commission in the US Air Force where he managed AF mental health programs.
Reviews of the TotalCourage™ Institute Playbook
Check out these reviews from successful and satisfied customers:
"TotalCourage!and it's Playbook could not be more appropriate in the current climate of the digital and and given the inappropriate conduct by some student athletes and coaches.  The Playbook gets right to the heart of the problem with life-changing solutions.  A fantastic tool to teach and reinforce character."

Larry Ivy, Former Athletic Director, University of Kentucky
"Every coach should have the Playbook as a tool to reinforce character.  I find many similarities in my studies of Proverbs in the Old Testament of the Bible.  Profound, Hard-hitting, and absolutely necessary."

Jerry Glanville, Former NFL Head Coach, Houston Oilers and Atlanta Falcons
TotalCourage! has developed a curriculum to develop student athletes into empathetic and morally grounded individuals.  The tools available in the Playbook reinforce proper character development."

Nicholas McKinnon, MD, Adult Adolescent and Geriatric Psychiatrist
"A challenging book written from the perspective and experience of a career military officer and team builder-leader.  He presents the need and importance of ethics and moral qualities in building a successful team or individual life.  This book will challenge the current norms and expectations of students, athletes, and coaches alike."

Amazon Customer, James S. Watson
"TotalCourage! is a powerful program that motivates young individuals to lead a life on intentionality and good moral character."

Bernadette Mattox, Former Division I NCAA Head Basketball Coach and WNBA Coach
"This book is amazing.  Never had I contemplated that it takes more courage to live a moral life than it does to live a life against moral fiber.  This book digs into the heart issue with all of us.  Aimed at athletes, where discipline and character building is important, but really any group that is in a position of instructing leaders or teamwork would benefit from this work. Great read."

An Amazon Customer
"Must read for anyone interested in the benefits associated with character building and ethics-based behavior in sports and life beyond the playing field.  Dee has harvested many of his countless life lessons and shares them in this potentially life-changing book."

An Amazon Customer
"Excellently stated, relatable, and a great read!  I would recommend to anyone looking for advice in this arena."

An Amazon Customer
"What an excellent read geared towards all coaches, athletes, and athletic directors.  I highly recommend as it is a great tool to implement in any institution."

An Amazon Customer
"A must read for living a principled life with TotalCourage!  Dee Daugherty gives you a set of strong moral tools to make the right choices and lead others.  Don't let this one slip by.  Get it now!"

An Amazon Customer